The School LAND Trust program brings tens of millions of dollars annually to academic programs in public schools across Utah. The funds are generated from school trust lands. These funds are the only discretionary funds many schools receive. The program runs entirely from this web site. Each public school in Utah elects a school community council consisting of parents, teachers, and the principal. Charter Schools have Trust Lands Councils. All councils have a two parent member majority. Each council carefully reviews student assessments and progress to decide which academic areas they want to focus on. Plans are developed to improve student academic performance in the identified academic areas with the annual School LAND Trust funds. The plans are approved by the council, submitted on this website, and approved by the local school board or chartering entity (Taken from the School Land Trust website at http://www.schoollandtrust.org/program).
Community Council Members
| Member | Role | Phone | Email |
| --- | --- | --- | --- |
| Tanya Fielding | Chair/Parent | 435-586-4552 | |
| Delana Burt | Parent | 435-592-6870 | |
| Shelley Whittaker | Parent | 435-233-0363 | |
| Sheralee Webb | Vice/Parent | 801-882-1473 | |
| Jennifer Smith | Employee | 435-586-2840 | |
| Mike Moyle | Principal | 435-586-2840 | |
September 30th

December 9th

February 9th

All meetings will be in the school library from 3:40 to 4:20 or via Zoom/Webex.
Meeting 1 of 3:
Council membership and assignments

Review Land Trust website with training materials

Final report for previous year

Data review for previous year

Review plan for current year

Discuss thoughts for next year
Meeting 2 of 3:
Review current year's plan effectiveness to date.

Discuss ideas for the upcoming school year.

Create rough draft budget for upcoming year.
Meeting 3 of 3:
Final discussion on current year's plan and its impact on student learning

Final discussion and decision on next year's plan

Submission of plan to the School Land Trust organization

Review of this year's council assignments and meetings along with possible changes.
All parents are invited to serve on the Community Council. If interested, please fill out our candidacy form linked above. Parents can directly influence how the funds our school receives are spent.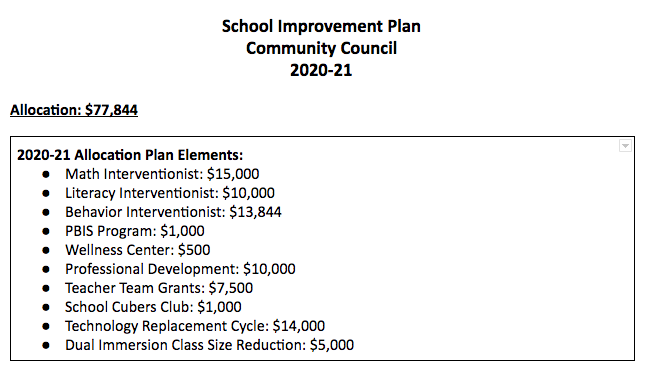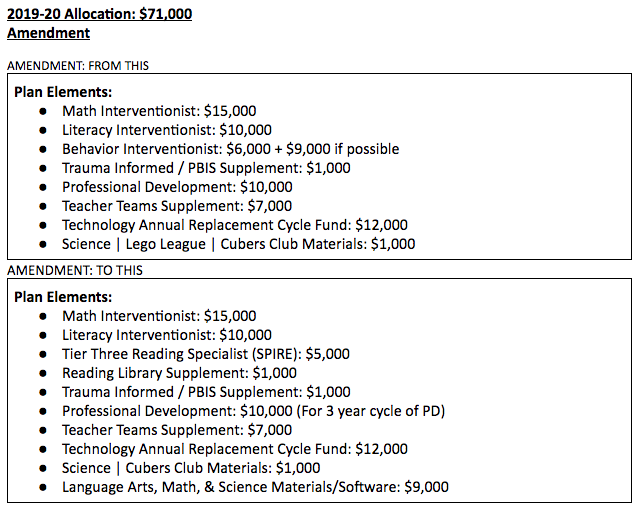 The School LAND Trust Program funds were used in the school year 2019-20 as outlined above. This funding has made a wonderful difference for our students by providing academic and behavioral support they would otherwise not experience. It also provided valuable professional development for our teachers and paraprofessionals in improving understanding and skills to raise student learning outcomes. It provided materials for reading and behavioral supports and interventions. It also allowed teachers to purchase materials and access to software to enhance their resources in teaching. Finally, it helped the school to provide 1:1 technology devices for students 3rd through 5th grade.
Rules of Order & Procedure
To promote ethical behavior and civil discourse each council member shall:
Attend council meetings on time and prepared,

Make decisions with the needs of students as the main objective,

Listen to and value divers opinions,

Be sure the opinions of those you represent are included in discussions,

Expect accountability and be prepared to be accountable, and

Act with integrity.
Rules of Order & Procedure
All meetings are open to the public.

Agendas of all council meetings will be provided to council members at least one week before each meeting and posted on the web site. The agenda will include the date, time, and location of the meeting.

Minutes are kept of each meeting and approved in the following meeting.

Council meetings will be arranged for the entire school year along with agendas.

The council consists of four or more parent members, a school employee, and the school principal. Elections are held to fill positions when there is more than one person volunteering to participate. In the case of a tie, the principal flips a coin to determine the outcome. Elections are required to be staggered.

The chair conducts the meetings, makes assignments, and requests reports. The vice chair has this responsibility in the absence of the chair.

The council must have a quorum to vote (majority of council members).

If a parent member is absent from two consecutive meetings, the chair will notify the member that if the member does not attend the next meeting, the council will consider the seat vacant and the remaining parent members will appoint a parent to fill the unexpired term.

The council must determine a procedure for a council member to disclose a conflict of interest if required by the local school board.

Meetings shall be conducted and action taken according to very simplified rules of parliamentary procedure as required in 53G-7-1203(10). Council actions will be taken by motions and voting with votes and motions recorded in the minutes. (required)
Simple Motions of Parliamentary Procedure
Used by some organizations to assist those new to the process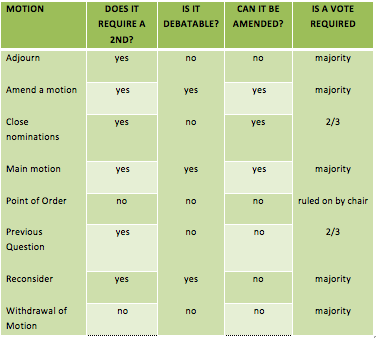 A motion (or an action to be taken by the council) is stated as a motion. Someone else on the council "seconds" the motion indicating that at least one other person on the council feels the motion is worthy of discussion. Then the council members may provide input and discussion as called upon by the chair. When discussion seems complete the chair may call for a vote on the motion. Or when a member of the council "calls the previous question" (a motion to end discussion of the first motion), a second is required. Without discussion the chair calls for a vote that must pass by 2/3. If the vote on the previous question fails, the council goes back to discussing the first motion. If the motion to call the previous question passes, the chair directly calls for a vote on the first motion. A vote to call the previous question is usually used to move business along.
A tie vote is a lost vote.

Most motions are main motions. A main motion may be amended.

A point of order is offered when there is some question if procedure had been followed correctly.

To stop debate or discussion on a motion and force the vote a member would say, "I move the previous question." This requires a second and a 2/3 vote.

Hasty action may be corrected by use of the motion to reconsider. This motion may be made only by one who voted on the prevailing side.

A person who made the motion may withdraw the same motion.